Lester Johnson
(Click on an image to see a larger version with details.)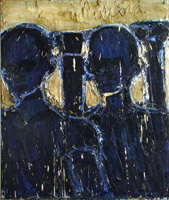 Born in Minneapolis in 1919, Johnson studied at the School of the Art Institute of Chicago before moving to New York in the late 1940s. After establishing himself as a major force in the New York art world, he went on to teach at Yale University for almost thirty years, for much of that time as the director of the graduate painting program at the Yale School of Art and Architecture. He was honored with a Guggenheim Fellowship in painting in 1976, received a Citation in Painting at the 1987 Brandeis University Creative Arts Awards, and in 2003 was honored for lifetime achievement by the American Academy of Arts and Letters, New York.
Lester Johnson emerged as part of the New York school of painters in the 1950s, during the heyday of abstract expressionism, and his work shares much, in its spontaneity, and raw physical power with the great action painters of his generation. Yet he stands out as a figurative painter during the ascendancy of abstraction.
John Russell wrote of Lester Johnson's invention of "the poetry of congestion," and Harold Rosenberg described the content of Johnson's paintings as "human energy." Indeed, from the dark and brooding solitary figures of the 1960s and the street scenes of men in bowler hats of the 1970s, to crowded cityscapes full of women in colorful print dresses of the 1980s and beyond, Johnson's figures seem to be always in motion. So much so, in fact, that even the largest of his canvases are barely able to keep the crowd contained within the frame.
Johnson has been the subject of numerous solo exhibitions in the United States and abroad, his work has been included in dozens of major museum exhibitions, and his paintings are found in the permanent collections of many of the leading museums in America, including those listed below.
Lester Johnson died on May 30, 2010, in Southampton, New York.
The Baltimore Museum of Art
The Albright-Knox Art Gallery, Buffalo
The Fogg Art Museum, Harvard University
Art Institute of Chicago
Detroit Institute of Arts
Fort Worth Museum of Modern Art
The Wadsworth Atheneum, Hartford
Minneapolis Institute of Arts
The Walker Art Center, Minneapolis
Yale University Art Gallery, New Haven
The Museum of Modern Art, New York
The Metropolitan Museum of Art, New York
The Whitney Museum of American Art, New York
The Solomon R. Guggenheim Museum, New York
The Chrysler Museum, Norfolk
The Carnegie Museum of Art, Pittsburgh
Museum of Art, Rhode Island School of Design, Providence
The Aldrich Museum of Contemporary Art, Ridgefield
Rose Art Museum, Brandeis University
The Hirshhorn Museum and Sculpture Garden, Washington
The Smithsonian American Art Museum, Washington.